Community Corrections Chase
Registration for the Chase closes Wednesday, July 18 at midnight EST!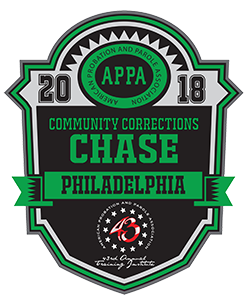 APPA's interactive learning experience, the Community Corrections Chase (C3), will offer a fun, rewarding, and competitive challenge for training institute attendees! It is a take on the very popular CBS show, The Amazing Race, where contestants "race" to win a cash prize. In our competition, community corrections/supervision professionals will team up to "chase" an opportunity to gain knowledge about practices, theories, and policies that increase understanding of this industry, while learning some history of Philadelphia and the city's important role in the American Revolution. Teams will leave the Philadelphia Marriott Downtown hotel on Tuesday, July 31, at 12:00 p.m. Each site will offer a different educational and fact-finding expedition.
This year's C3 interactive workshop participants will have an opportunity to experience Philadelphia's rich history as well as have dialogue and a quick-study on subjects including but not limited to:
Officer Resiliency
Coach vs Referee
Equality, Strength, and Hope
Anti-Violence Partnership
All members of the first team to return to the hotel after successfully completing all assignments will be crowned champions! Prizes will be awarded to the first, second, and third place teams, and all will get a certificate of completion. The session has limited availability, so don't miss out on this opportunity! Sign up for this exciting experience when you register for the training institute.
All C3 participants must sign a release of liability prior to competing in the Chase.
Release of Liability