Van Jones is the CEO of REFORM Alliance, CNN political contributor, and host of Redemption Project and The Van Jones Show on CNN. Jones has been a leader in the fight for criminal justice reform for more than 25 years. He has founded and led many thriving social enterprises, including the Ella Baker Center for Human Rights, Color of Change, and the Dream Corps – a social justice accelerator that houses #YesWeCode, #GreenForAll, and #cut50, the organization that recently led the charge on passing the FIRST STEP Act (a bipartisan Federal bill that the New York Times calls the most substantial breakthrough in criminal justice in a generation). The mission of the REFORM Alliance is to dramatically reduce the number of people who are unjustly under the control of the criminal justice system – starting with probation and parole.
Jones has authored three New York Times best-selling books, The Green Collar Economy (2008), Rebuild the Dream (2012), and Beyond the Messy Truth (2017). In 2009, Jones worked as the Green Jobs Advisor to the Obama White House, where he oversaw an $80 billion dollar investment in training and jobs development within the environmental and green energy sectors.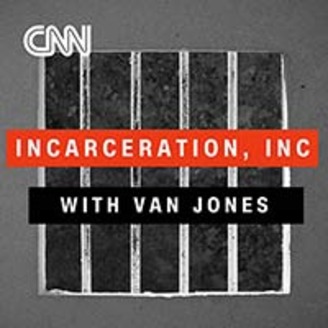 Incarceration, Inc.
Podcast with Van Jones
Go behind the numbers of mass incarceration in America, in this 4-part series hosted by CNN's Van Jones. Hear from a range of voices, as Van and his guests explore... LISTEN NOW »
Jones has been honored with numerous awards and spotlighted on several lists of high achievers, including the World Economic Forum's "Young Global Leader" designation, Fast Company's 2008 "12 Most Creative Minds On Earth," TIME's "100 Most Influential People in the World" in 2009, Rolling Stone's 2012 "12 Leaders Who Get Things Done," and Variety's 2018 "New York Power List."