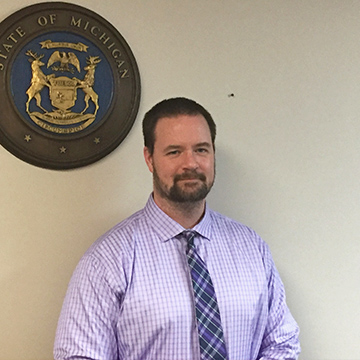 Jason began his career with the Michigan Department of Corrections in 2010. He has involved himself in various opportunities to expand his growth, influence and knowledge. He has voluntarily supervised sex offender, veteran, and drug court caseloads. For two years, he was on an EPIC team that reviewed and rewrote policies.
He was one of the first to volunteer for the Carey Guide pilot. He applied and was selected to become a Motivational Interview coach. He is an outspoken advocate for MI and its benefits, stating "MI is a way to help people find their own reasons for change and every interaction is a chance to make a positive impact on an offender."
He organized an outing to Forgotten Harvest, where staff packaged 8,000 pounds of food for the less fortunate. He is a member of the MDOC Traumatic Incident Stress Management Team and has responded to traumatic events experienced by his colleagues; providing support and assistance. He received the MDOC 2019 Candice Dunn Agent of the Year Award for his exceptional work serving the citizens of the State of Michigan, promoting offender success and public safety. He also received the State of Michigan Good Government Teamwork coin.